(Corporate Social Responsibility )
TEAMBUILDING-UNLIMITED leads you in an amazing philanthropic team event

: Operation Backpack: Backpacks for Kids because every child deserves to start the school year off right!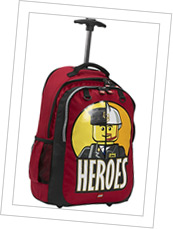 Teams create, decorate and fill backpacks with school supplies. These "stuffed' backpacks

will be donated

to school groups, specific charities, or children's centers.
Utilizing team building skills such as communication, collaboration, planning, resource allocation, and creativity, your teams will excel at this philanthropic event!

Working together each team becomes part of an even bigger team that makes a difference by providing essential school supplies for children who really need them.
This teambuilding event begins with a combination of different types of competitive Children's Games. Teams earn points to choose essential school supplies to fill the backpacks. Besides teambuilding skills, a lot of team bonding goes on during this meaningful and fun charity challenge, as your employees relive their early school years through playing "children's" games and filling the backpacks!
TeamBuilding Unlimited provides all the supplies, backpacks, games and prizes. Your group supplies the skills and energy. Length and complexity customized to client timeline.
TeamBuilding Unlimited/Murder on the Menu
Other Charity Challenges:
Philanthropic Team Building at your next Meeting, Retreat, Picnic or Conference! Give Back! The need is there all year round!